Posts for: December, 2021
By Dental Arts Of Dalton, PC
December 09, 2021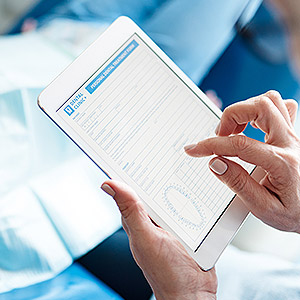 Some things you hear at the dentist don't surprise you: You have more plaque buildup or (yuck!) you have a new cavity. On a more positive note, you might hear your teeth look fine. But what you might not expect to hear is that your dentist—your longtime dentist—is retiring.
Then again, it might be you telling your dentist you're moving to another city—or you just feel like it's time for a change. Whatever the reason, there could come a time when you must find a new dental care provider. And when you do, it's very important that your dental records go with you.
And, yes, your dentist does have such records on you. Just like medical physicians, they're obligated legally and professionally to maintain a formal record of all your visits and treatments (including all your x-ray films). They may also include notations on your other health conditions and medications that could impact your dental care.
Without those records, your new dentist essentially starts from scratch, depending on what you tell them and what they may ascertain from examining your mouth. It means new x-rays and new treatment plans that can take time to form. But with your old records in hand, dental care with your new dentist hardly misses a beat.
Technically, those records belong to your dentist. You are, however, legally entitled to view them and to obtain a copy, although you may have to reimburse the dentist for printing and mailing costs. Usually, though, you can simply request they be transmitted to your new dentist, which can often be done electronically.
But what if, for whatever reason, you're not comfortable asking for your records from your former dentist? In that case, you can ask your new dentist to request them. Even if you still have an outstanding balance with your former dentist's office, they can't refuse a transfer request.
HIPAA regulations require dental offices to retain adult patient records for at least six years. But don't wait that long! The sooner your dental records are in the hands of your new dentist, the less likely your dental care hits any speed bumps.
If you would like more information on the importance of your dental records, please contact us or schedule an appointment for a consultation. You can also learn more about this topic by reading the Dear Doctor magazine article "Why Your Dental Records Should Follow You."
By Dental Arts Of Dalton, PC
December 02, 2021
Even though dentures are not real teeth, they still require daily care to maintain good oral hygiene and extend the life of your dentures. By cleaning your dentures daily and caring for them properly, you can enjoy the many benefits of dentures for years to come. If you are looking for a dentist to assist with obtaining or caring for your dentures in Dalton, GA, look no further than Dr. E Thomas Lewis at Dental Arts of Dalton.
How To Clean Dentures
Just like real teeth, plaque can form on dentures when they are not properly cleaned due to food debris and staining from acidic foods and beverages. Not only will daily cleaning of your dentures help to keep them white and bright, but it is also beneficial for the health of your gums and tongue.

Dentures in Dalton, GA, should be cleaned with a denture brush or soft-bristled toothbrush every day. A regular toothbrush may cause damage to dentures, as the bristles may form small grooves that can collect plaque and other bacteria on the surface of your dentures. Similarly, you should not use conventional toothpaste to brush your dentures, as they may cause damage over time. With a denture brush, you should only need water to thoroughly brush your dentures and avoid any unwanted odor.

Rinsing your dentures with water after each meal will also help to keep them clean. In addition to brushing, you should also let your dentures soak in a cleanser solution each night so that they stay clean and do not dry out. Taking out your dentures regularly will also help to protect your gums over time.
Continued Oral Hygiene
It is important to continue oral hygiene routines even if you are using dentures. This means that your gums and tongue should still be brushed daily with a toothbrush and toothpaste. Continued use of mouthwash will also help to eliminate unwanted bacteria to keep your lips, gums, and tongue healthy. If you have partial dentures, your dentist will probably recommend continuing to brush your remaining teeth.

For more information on oral health habits or the care of dentures in Dalton, GA, please call Dr. Lewis of Dental Arts of Dalton at (706) 278-4254.