Posts for tag: smoking
By Dental Arts Of Dalton, PC
November 29, 2020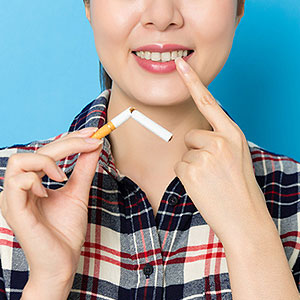 During his exploration of the Americas, Christopher Columbus encountered a native in a canoe loaded with water, food and a strange bunching of leaves. This marked the first European encounter with tobacco, a discovery that still haunts us to the present day. Today, millions smoke tobacco—and many suffer serious health problems as a result, including dental diseases like tooth decay and gum disease.
The American Cancer Society is sponsoring its 44th annual Great American Smokeout this November 19 when health providers across the country encourage smokers to kick the tobacco habit. Dentists will certainly be among them: Studies show that smokers are five times more likely to lose teeth than non-smokers due to a higher incidence of dental disease. Here's why.
Increased plaque and tartar. The main cause for tooth decay and gum disease is dental plaque, a thin, bacterial film that builds up on teeth. Brushing and flossing, along with regular dental cleanings, can keep plaque and its hardened form tartar from accumulating. But substances in tobacco restrict the flow of saliva needed to curb bacterial growth. This in turn can increase plaque accumulation and the risk for disease.
Hidden symptoms. Your gums often "tell" you when you have early gum disease by becoming swollen and red, and bleeding easily. But if you smoke, you might not get that early warning—the nicotine in tobacco interferes with your body's inflammatory response, so your gums, although infected, may look normal. By the time you find out, the infection may have already spread, increasing your chances of tooth loss.
Slow healing. Nicotine can also constrict the mouth's blood vessels, slowing the delivery of nutrients and infection-fighting antibodies to your teeth and gums. As a result, your body may have a harder time fighting tooth decay or gum disease, and diseased tissues can take longer to heal. Slower healing can also complicate the process of getting dental implants.
Increased oral cancer risk. Although it's not as prevalent as other cancers, oral cancer is still among the deadliest with a dismal 50% survival rate after five years. Smokers are six times more likely than non-smokers to develop oral cancer. But by quitting smoking and other forms of tobacco, you could reduce your oral cancer risk to that of a non-user in just a few years.
Kicking the smoking habit often takes a monumental effort, but it's worth it. Quitting not only improves your overall well-being, it could help you gain healthier teeth and gums. To learn how, see us for an up-to-date dental exam—we can show you how getting Columbus's most notorious discovery out of your life could do wonders for your smile and dental health.
If you would like more information about the effects of tobacco on your oral health, please contact us or schedule a consultation. To learn more, read the Dear Doctor magazine articles "Smoking and Gum Disease" and "Strategies to Stop Smoking."
By Dental Arts Of Dalton, PC
September 05, 2019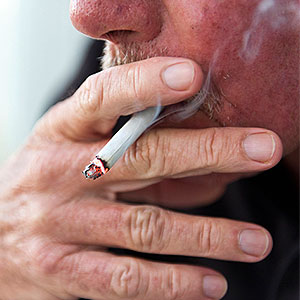 Although periodontal (gum) disease starts with the gums, the teeth may ultimately suffer. An infection can damage the gum attachment and supporting bone to the point that an affected tooth could be lost.
The main cause for gum disease is dental plaque, a bacterial biofilm that accumulates on teeth due to ineffective oral hygiene. But there can be other contributing factors that make you more susceptible to an infection. Smoking tobacco is one of the most harmful as more than half of smokers develop gum disease at some point in their life. If you're a heavy smoker, you have double the risk of gum disease than a non-smoker.
There are several reasons why smoking increases the risk of gum disease. For one, smoking reduces the body's production of antibodies. This diminishes the body's ability to fight oral infections and aid healing. As a smoker, your body can't respond adequately enough to the rapid spread of a gum infection.
Another reason for the increased risk with smoking are the chemicals in tobacco that damage the connectivity of gum tissues to teeth that keep them anchored in place. The heavier the smoking habit, the worse this particular damage is to the gums. This can accelerate the disease and make it more likely you'll lose affected teeth.
Smoking can also interfere with getting a prompt diagnosis of gum disease because the nicotine in tobacco reduces the blood supply to the gums. Usually a person with an infection may first notice their gums are reddened or swollen, and bleed easily. Smoking, however, can give a false impression of health because it prevents the infected gum tissues from becoming swollen and are less likely to bleed. As a result, you may learn you have the disease much later rather than sooner, allowing the infection to inflict more damage.
There are ways to reduce your disease risk if you smoke. The top way: Kick the smoking habit. With time, the effects of smoking on your mouth and body will diminish, and you'll be better able to fight infection.
You should also practice daily brushing and flossing to keep plaque at bay, followed by regular dental cleanings to remove hard to reach plaque and calculus (tartar) deposits. You should also see your dentist at the first sign of trouble with your gums.
If you would like more information on the prevention and treatment of gum disease, please contact us or schedule an appointment for a consultation. You can also learn more about this topic by reading the Dear Doctor magazine article "Smoking and Gum Disease."