Posts for: September, 2018
By Dental Arts Of Dalton, PC
September 20, 2018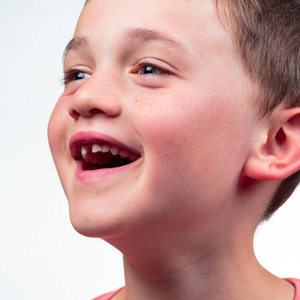 We breathe every moment of every day and we're hardly aware of it most of the time. But if you take the time to focus, you'll find two possible pathways for your breath: through the nose or through the mouth.
While either pathway provides the air exchange needed to live, nose breathing offers better health benefits. Air passes through the nasal passages, which filter out many harmful particles and allergens. The mucous membranes in the nose also humidify the air and help produce heart-friendly nitric oxide.
Nose breathing also plays a role in your child's facial and jaw development: the tongue rests on the roof of the mouth (the palate) and becomes a kind of mold around which the developing upper jaw can form. With chronic mouth breathing, however, the tongue rests just behind the lower teeth, depriving the upper jaw of its normal support. This could result in the development of a poor bite (malocclusion).
To avoid this and other undesirable outcomes, you should have your child examined if you notice them breathing mostly through the mouth, particularly at rest. Since chronic mouth breathing usually occurs because of an anatomical obstruction making nose breathing more difficult, it's usually best to see a physician or an ear, nose and throat (ENT) specialist first for evaluation and treatment.
It's also a good idea to obtain an orthodontic evaluation of any effects on their bite development, such as the upper jaw growing too narrowly. If caught early enough, an orthodontist can correct this with a palatal expander, a device that exerts gradual outward pressure on the jaw and stimulating it to grow wider.
Another bite problem associated with chronic mouth breathing is misalignment of the jaws when closed. An orthodontist can address this with a set of removable plates worn in the mouth. As the jaws work the angled plates force the lower jaw forward, thus encouraging it to grow in the direction that best aligns with the upper jaw.
Any efforts to correct a child's breathing habits can pay great dividends in their overall health. It could likewise head off possible bite problems that can be both extensive and costly to treat in the future.
If you would like more information on promoting oral health in your child, please contact us or schedule an appointment for a consultation.
By Dental Arts Of Dalton, PC
September 10, 2018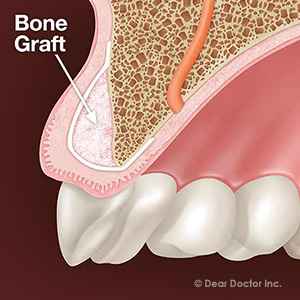 The "magic" behind a dental implant's durability is the special affinity its imbedded titanium post has with bone. Over time bone grows and attaches to the titanium surface to produce a strong and secure hold.
But there's one important prerequisite for ultimate implant success—there must be an adequate amount of bone available initially to properly position the post during implantation. Otherwise, the implant may not have enough support to position it properly or cover the implant surface completely with bone.
Inadequate bone can be a problem for patients who lost teeth some time before and now desire to an implant restoration. This happens because when teeth are missing, so are the forces they generate during chewing. These forces stimulate new bone growth around the tooth root to replace older, dissolved bone at a healthy rate. If that replacement rate is too slow, the volume and density of bone may gradually diminish.
There is a way, though, to build up the bone for future implantation. Known as bone preservation procedure or a ridge augmentation, it's a surgical procedure in which the dentist adds bone grafting material to the extraction socket or the bony ridge. The graft serves as a scaffold for new bone cells to grow and multiply. If successful, there will be enough new bone volume after several months of healing to support proper implant placement.
Bone grafting can add more time to the implant process. It may also mean you will not be able to undergo immediate crown placement after implantation (a "tooth in one day" procedure). Instead we would probably suture gum tissue over the implant to protect it and allow for full integration with the bone over a few more months. In the meantime, though, we could fit you with a temporary restoration like a removable partial denture (RPD) or a bonded bridge to improve the appearance of the space while the bone continues to heal.
After several months, your implant will have a better chance of a secure hold and we can then attach a life-like crown. Even if you've suffered bone loss, you'll then have the benefit of not only a durable implant but also a new smile.
If you would like more information on dental implants, please contact us or schedule an appointment for a consultation.