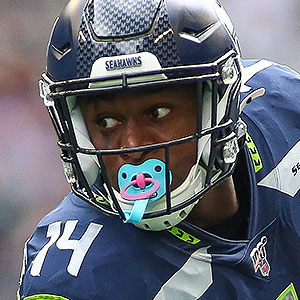 If while watching a Seattle Seahawks game you thought you saw wide receiver D. K. Metcalf sucking on a "binky," your eyes weren't deceiving you. Well, sort of not—he's actually been known to wear a mouth and lip guard shaped like a child's pacifier.
Metcalf isn't the only pro football player customizing this essential piece of safety equipment. Broncos running back Ronnie Hillman has been seen sporting "vampire fangs." And Odell Beckham Jr., wide receiver with the Cleveland Browns, has a series of interchangeable guards with various designs and colors.
You may say, "That's the NFL, so of course players have the money and fame to dress up their mouthguards with a little flair." But custom mouthguards aren't out of reach for the average athlete—in fact, it's actually a sound idea. Not so much for expressing personality, but for the comfort and protective advantages that a custom mouthguard may have over retail varieties.
Usually made of high-resistant plastic, an athletic mouthguard absorbs blows to the face and mouth during hard contacts in sports like football, basketball and hockey. Mandated by many organized sports associations, mouthguards can prevent dental and facial injuries like chipped or knocked out teeth, gum abrasions or jaw fractures. There's even some evidence they reduce the risk of concussion.
Many amateur players use what is known as a "boil and bite" mouthguard, available in retail sporting goods stores. They're softened first, usually in hot water, and then placed in the mouth and clenched between the jaws to obtain a somewhat individualized fit.
Although they do provide some level of protection, a boil and bite mouthguard can't match the accuracy of a custom mouthguard produced by a dentist based on impressions and measurements of an individual player's mouth. As a result, custom mouthguards can be made thinner than many boil and bite guards, increasing their comfort while being worn. More importantly, their accurate fit enhances their protective capabilities.
As you might imagine, custom mouthguards are more expensive than their retail counterparts, and with younger athletes whose mouth structures are still growing, it may be necessary to upgrade a custom guard after a few seasons. Still, the cost of a custom mouthguard may be well worth the superior protection it provides for your own little star athlete. And although it may not necessarily look like a binky or vampire fangs, a custom mouthguard could make their playing experience safer and more comfortable.
If you would like more information about custom athletic mouthguards, please contact us or schedule a consultation. To learn more, read the Dear Doctor magazine article "Athletic Mouthguards."